Meet Dr. Mark Del Cantero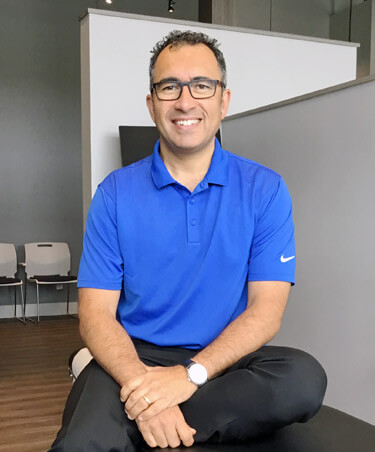 After being a chiropractor for 19 years, I can honestly say that I didn't choose chiropractic as a profession, but I was CHOSEN!
Chiropractic has allowed me to overcome my own health disasters such as poor eating habits, high blood pressure, a traumatic knee injury and be able to say; "I'm healthier today at age 49 than I ever have been". Best of all I know that the best is yet to come for me AND my patients. I feel I am living the positive lifestyle changes that my patients are coming to me to achieve.
The Road to Chiropractic…
It was back in the summer of 1990 that I decided I wanted to be a chiropractor. I was working as a graduate student at the University of Toronto doing research in food sensitivity and working with professionals in many alternative health fields. Chiropractic attracted me because it didn't add anything or take away, but relied on our God-given healing potential to allow abundant health. Although I had never received a chiropractic adjustment in my life, the principle of above-down-inside-out healing captivated me.
I attended Canadian Memorial Chiropractic College for four years and was married to my beautiful wife Danielle in the summer between first and second year. My technique classes were a bright spot in my four years. One of the instructors was extremely passionate about what he was teaching. It was his zeal for chiropractic that got me excited about not just relieving pain, but optimizing health and in many cases giving back life. I realized there was so much more to this healing through chiropractic.
Our Philosophy at Cedar Springs Chiropractic!
My goal is to unlock a door for my patients that in many instances has never been opened – that door being optimal wellness in three distinctive areas:
Physical: This involves chiropractic, nutrition and exercise.
Mental and Emotional: This involves changing your thinking habits and learning to express desires.
Spiritual: This involves addressing your beliefs about your purpose and meaning.
If the patient wants, all of these areas can improve with our office being the starting point. Every single person that comes to us is treated with the utmost dignity and respect. Whether a mom home with four children, or a C.E.O. of a Toronto company, or a pilot, a grandmother, a pastor or a cashier, our patients feel part of a family, and they find our clinic a safe, comfortable place to be themselves, and to learn better how to take care of themselves and their family. One of the most endearing moments for me is seeing a patient develop and change over a short time, and seeing God's light shine through them.
EXPLORE CHIROPRACTIC CARE »
On a personal note…
I have been blessed with a wonderful family. My wife Danielle and I have three children who keep us busy with sports, music, school and church activities. Danielle and I love to run, and you can often find us in local conservation areas hiking or biking with the kids. We spend a lot of time at our church which is just steps from our front door, and we love to travel…planning our next trip is one of our favourite past times. I am passionate about training for triathlons and running races…it's the training and goal setting that helps keep me on track with my life. In these events I have a lot of personal breakthroughs. What drives me the most in life is my faith in God, and the rituals that support that relationship.
I feel healthy and fully alive because of many healthy habits. I receive regular wellness chiropractic care and have instituted many other rituals into my life to be healthy and happy. I start my mornings around 4:30am by spending time with God. Early mornings are important to me for planning and visioning my days and weeks. I also run or swim daily, sometimes with my wife, sometimes with the whole family.
Call Cedar Springs Chiropractic today!
Now that you have a vision of who I am and what I see as important for your health, let's together take the first step. Please contact our Ancaster chiropractic office to set up your personal consultation time or email us using the link below. Our team is happy to thoroughly answer your questions.
---
Chiropractor Ancaster | (905) 648-2058